Deferred Gift Annuities
(Gift illustration)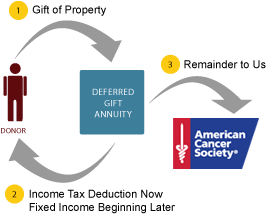 How it works

You donate cash, securities or other property to the American Cancer Society.

Beginning on a specified date in the future, the American Cancer Society begins to pay you, or up to two annuitants you name, fixed annuity payments for life.

The principal passes to the American Cancer Society when the contract ends.
Benefits
Deferral of payments permits a higher annuity rate and generates a larger charitable deduction.
You can target your annuity payments to begin when you need them, such as retirement or when a grandchild needs help with tuition payments.
The longer you defer payments, the higher the effective rate you will receive.
You have the satisfaction of making a significant gift now that benefits both you and the American Cancer Society later.
For more information
Complete the personal illustration form, or call us at 1-800-227-1885 so that we can assist you and your financial advisor through every step of the process.